Frequently Asked Questions
Question # 1: What makes your Boot Camp different from what my pool, spa and accessory suppliers have already taught me?
Answer: Good Question! First of all let me tell you that what I teach you is "non-denominational". That means it doesn't matter to me which brand of spas or pools you sell. What I teach you will work regardless of the brand.
Unlike most spa and pool company trainers and educators, I did not grow up the pool and spa business. As a matter of fact, I have 25 years of sales and marketing experience outside the industry. For the past 32 years, I have created, sold and marketed to over two-dozen different retail industries in 30 countries around the world.
I've had an opportunity that most dealers never get. During my career and in my consulting practice, I get to go over and work with industry A. And while I'm over there, I notice something they're doing that's phenomenally effective. I see that hardly anybody else outside their business is doing it, but they could be doing it, so I borrow it from industry A and I take it over and I teach it to industry B.
Many of the marketing practices I share in this Boot Camp come from the auto industry, the professional services industry, the Power Sports industry, and the Internet marketing industry. You will benefit from my years of experience working in these and other dealer based industries.
Question # 2: Can't I Just Learn This Stuff On My Own
Answer: I'm sure you could learn this on your own….but why would you want to? Aren't you strapped enough for time as it is? How valuable is your time and money? Listen, people pay you for your expertise, because you are the expert. You've "been there and done that" and have the stripes on your back to prove it.
I've spent years and thousands of dollars collecting, testing, implementing, and perfecting these strategies with great success in hundreds of small businesses. I've learned what works and what doesn't so you don't have to. Why reinvent the wheel at the expense of losing a ton of time and money?
Question # 3: Why should I pay you to learn stuff I already know?
Answer: You shouldn't. If you already know the strategies and techniques I teach at the Spa and Pool Dealer Marketing Boot Camp, you don't need to pay me and you shouldn't! But if you're struggling to find new leads, close more sales and explore every avenue possible to increase profits for your store, then I guarantee you will learn a great deal of tactics and techniques that you never knew. "The problem is you don't know what you don't know".
Question # 4: My business is different than most, are you sure your sales and marketing strategies will work for me? OR This will never work in my business it's different here in (insert city name)
Answer: I think you'd be surprised how many dealers say the same thing. The strategies contained in this program work regardless of what part of the country you live in or your specific product mix/ target market. In addition, I'll show you so many different strategies so it is almost impossible for you NOT to find several that you can start using right away. Remember, all the strategies I give you are from real businesses all over the USA.
Question # 5: I am not much of a marketing guy/gal, how easy will it be to apply what I learn?
Answer: The strategies I teach will work just as well for the novice as it will for the expert. Most of the strategies are easy enough to implement. More importantly than your knowledge of marketing is your time commitment and desire to make the necessary changes to improve in your business. I can show you what and how to do it, but ultimately it is up to implement what your learn.
Question # 6: I don't have a big marketing budget, can the Boot Camp still help me?
Answer: Many of the strategies I teach won't cost anything to implement. Sometimes it's just a change of focus in your thinking. On the other hand there will be some strategies that you may want to follow that will cost you a minimum investment. For most dealers, however it is not about spending more so much as it is either reallocating resources or improving what you are already doing. For instance, running more effective ads won't cost you more, but will obviously bring you better results.
Question # 7: How many strategies do you suggest I implement?
Answer: Don't try to do too many at once. Get a few up and running first and then add a few more each month. Then experiment and refine as you go along. It's better that you do a few strategies really well then do 20 poorly. In addition, the actual number of strategies that you decide to implement is not as important as making sure that each strategy you implement is effective.
Question # 8: How much time will it take before I start to see results of my efforts?
Answer: As with just about anything, the more time and effort you put into some of these strategies up front, the quicker you'll see the results. After you go through the Boot Camp, I would select 2 of the strategies that you think are easiest for you to implement. Get those up and running before you move onto any more. Depending on which strategies you choose, you should begin to see results in a very short time.
Question # 9: What if I am not happy with your program?
Answer: I am so confident that you'll be happy with the knowledge gained from this Boot Camp, that I am going to give you an unheard of no-questions, money back guarantee (see the guarantee on the home page).
Question # 10: Will you be teaching sales and closing techniques?
Answer: No. This is not sales training. I'll let your suppliers teach you that. But everything you learn will help your sales team increase their closing ratios by sending them more qualified prospects through improved marketing strategies.
Question # 11: What happens if the dealer I compete with buys your boot camp and implements the same strategies?
Answer: In my opinion, your competition is not the guy next door so much as it is other industries we compete with - ATVs, Snowmobiles, Plasma TVs, Boats, etc. With less than 2% market penetration in the USA, there is plenty of room for us all.
In addition, it's not what you learn; it's how well you implement what you learn. Even if you learn the same thing, one dealer will always do a better job at executing than the other - just make sure it's you.
Question # 12: Is the cost of the Boot Camp tax deductible?
Answer: Although, you'll need to check with your financial advisor, the boot camp is considered continuing education and training. When used to improve your professional or business skills it is usually deductible as a legitimate business expense.
Question # 13: How long after I place my order will I have access to the information?
Answer: All the information - videos and manuals are available within in a few minutes. You'll be automatically directed to a special download page and also sent an e-mail confirmation with your download links.
Did I miss something? Still have questions? Feel free to call or e-mail me. I'd love to talk to you!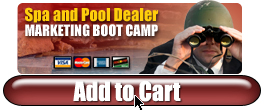 Home || Testimonials || Who is David Carleton || FAQ || Tell Friends About This Site || Order Now